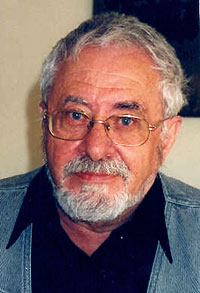 Mark Azov, writer and dramaturg, satirist and humourist, is an author of famous sketches for the well -known comic and actor Arkadi Raikin.
He is also a screenwriter for film and playwriter for drama's in Russia and Israel. He made many publications in Russia and Israel as well as some published books.
His last book "Fun, Prose and Love" was published in 2003. He is a member of the council of writers in Russia and Israel. He is a chief editor of the magazine "GALILEA" and he is a screenwriter in Nazareth - Israel.
He was born in Charkov - Ukraina 2 July 1925 , graduated in Charkov University as philologist . From 1964 till 1994 he was living in Moscow. The last 10 years Mark lives in Israel.
Mark Azov was a participant in the second World War and received few awards He received the order "Fighter against Nazisme" in Israel.